There seems to be a misconception about Florida… that we always have beautiful weather and live outdoors year-round. Sure, we don't shovel snow or have grey days for weeks on end, but we certainly do our fair share of hiding from the weather. For many of us, this means that our gorgeous sunny days are observed from inside our air-conditioned homes, as we peek through our blackout curtains and switch our ceiling fans to high, attempting to stay cool without breaking the bank.
But isn't that a bit sad? That we live in a virtual paradise, yet can't fully enjoy it? We are in the climate control business, but that doesn't mean we don't want you to enjoy the outdoors. That's why we recommend that you invest in a well-designed outdoor space, outfitted to make it as comfortable as possible, no matter the weather.
Unfortunately, many of our homes only have a small "patio" of open-air concrete. While it might be a nice spot for your grill, it's not where you want to be on a summer afternoon. First, there are the mosquitos, then the hot, stale air, and the blazing sun. Week after week, season after season, the "patio" goes unused. This is why many Floridians have found that investing in a well-designed outdoor space is more than worth it.
So where do you start? Here are a few ideas...
Put a barrier between you and the sun
There are plenty of options when it comes to shades and roofs, depending on your budget. Here are a few ideas:
Hang a simple shade sail that can attach to your home's exterior
Put up a decorative tent
Build an arbor
Go all out with a roof structure, such as an aluminum porch or a fully constructed porch with a shingled roof. Add a screen for final victory over the mosquitos!
You will be amazed at what a difference there will be by simply erecting a barrier between you and the sun.
Create a breeze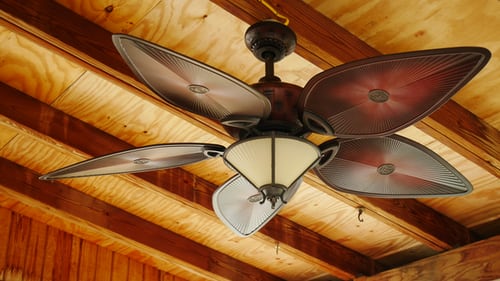 Nothing makes a difference like a slight breeze on a hot day. You can mimic this by installing ceiling fans or mounted fans. This will have the added benefit of dispersing mosquitos, as well. Be sure to purchase fans suitable for the outdoors and powerful enough to make a difference, but not so loud that they are overpowering.
Buy highly weather-resistant furniture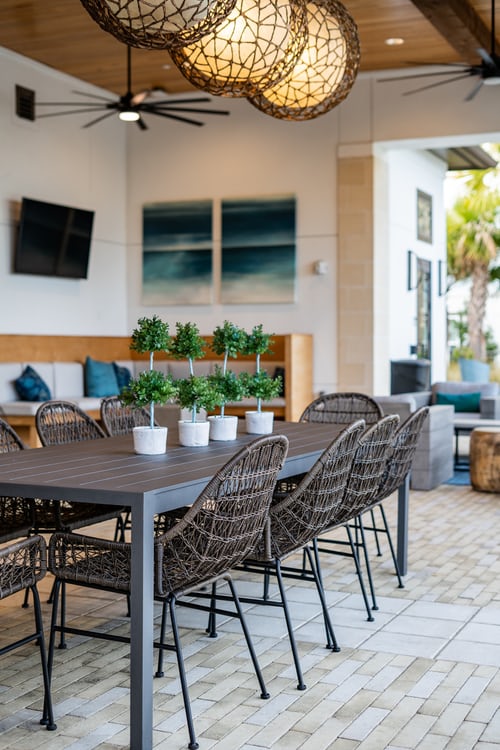 As Floridians, we get a good laugh out of hearing our Northern friends discuss "opening" their pool and bringing out the patio furniture from the basement when the seasons change. Our outdoor setup gets no such seasonal break. That's why it's important to think practically when purchasing furniture. Can those gorgeous upholstered cushions handle daily summer thunderstorms or will they be moldy within a few months? Can that wooden outdoor table handle constant direct sun or will it be faded by fall? Here's where good research will come in handy and ensure that your outdoor space looks great for years to come.
Go high-tech or all-out
There are lots of gadgets that can take your outdoor experience to the next level. From misters to bug zappers to oscillating fans, there are plenty of ways to stay comfortable if you're willing to spend a bit more. And let's not forget the ultimate way to stay cool outside… a pool. But that is a blog post for another day!
At Veteran Air, we pride ourselves on keeping your home's interior cool, but we don't want you to miss out on all that beautiful Florida sunshine. So take the time to invest in a comfortable outdoor space that you can enjoy. And send us a picture when you're done!
If we can help in any way with your climate control needs, please let us know. You can call us at (352) 609-2682 or visit veteranairandheat.com.